Maturity Continuum
The 7 habits of highly effective people run along a Maturity Continuum and are separated into several distinct parts.
By developing highly effective habits, one can move from Dependence to Independence to Interdependence
Maturity Continuum
Recently I had the priviledge of designing "The Essentials," a leadership series based in the 7 Habits of Highly Effective People.
It was developed for a group of apiring leaders eager to achieve success in their careers, and who wanted to know how to develop the habits to make that happen.  
By developing highly effective habits, they could move from Dependence to Independence to Interdependence.

Dependence
At some point in our lives, all of us have been totally dependent on someone else.  (Think back to when you were a baby.  As infants, none of us could fend for ourselves.)  
But as we grew, we were taught (or learned) how to do more and more things on our own.  In essence, we learned how to take care of our own needs.
Taking the initiative is what moves us from dependence to independence.
Independence
Moving from dependence to indepence requires us to take responsibility for our own actions, along with understanding the consequences of our actions.
It is a realization that I can be proactive instead of reactive.  I can begin with the end in mind, not moving haphazardly but with a clear aim and focus. And I can put first things first.
Not only that "I can" but "I will."
This is what Covey refers to as Private Victory.
According to Covey, private victory precedes public victory.  Or to say it another way, inner success comes before outer/external success.  
It is what Covey calls the Inside/Out Approach.  

Interdependence
Interdependence comprises the habits of Public Victory.  
It includes having the desire and ability to not only "Think Win/Win" but to align our actions with that desire.
It means taking the initiative to seek first to understand instead of insisting on being understood first.  
Plus, it requires seeking synergistic solutions, realizing that 1+1 is so much greater than 2.
It really is an exercise in maturity: think not only about me, but about we, Especially when our success demands that we learn how to work well together.  
Finally, Sharpen The Saw is focusing on continuous improvement, which is necessary to achieve increasing levels of success. 
Want To Know More?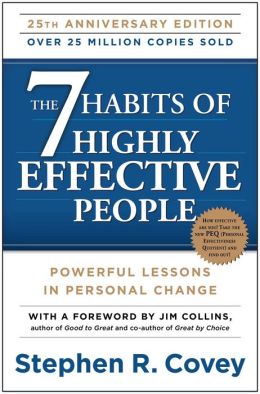 I was introduced to the 7 Habits more than twenty years ago and have read the book from cover to cover at least fifteen (15) times.  I continue to see the relevance of the Maturity Continuum, finding ways to practically apply it both personally and professionally.
Also, I complete the Personal Effectiveness Assessment at least once a year. I encourage you to do the same.
It will show areas of strength and weakness which can be used in developing your SWOT Analysis and individual development plan.  
I hope this information will be as helpful to you as it has been to me.  Let me know how it goes. (Smile!)