Performance Management Program
A robust performance management program is foundational to building a culture of accountability and consists of several elements:
The Purpose 
The Process 
The People 
The Plan
The Practice
Performance Management Program
Unfortunately, too many leaders are thrust into their roles with little or no support in learning how to lead.  They tend to be good performers from a technical or functional point of view --good at doing the work.  But they struggle at getting work done through others.  
Leaders must master the basics of managing and measuring work. 
But before they can do that, the infrastructure of a robust performance management program must be in place.  It is the only way you can build a culture of accountability requires mastering the basics.
The Purpose
The purpose represents the driving force behind why we do what we do.  It is our reason for being.
Holding yourself (and each other) accountable is easy when we have bought into the Vision, Mission and Core Values of the organization.  
They are the big "WHY" that fuels us and anchors us.
The Process
The process outlines "how" work will be managed and measured.  And should be contained in your company's policies and procedures manual.  
Since it governs how performance will be reviewed, rated and rewarded, you must become well acquainted with the intricacies of this policy.
If you have not read it lately, now is a good time to review it in detail, discuss with your boss and share it with your direct reports.  

The People
The people are the lifeblood of the organization; without them you have no organization or company or team.
Therefore, your direct reports must be very clear on what is expected and how their performance will be reviewed, rated and rewarded.  
Communicating and getting agreement up front will help minimize confusion and conflict later on.
The Plan
The plan represents "what" specific steps apply to each person and the timing of when those steps or actions will be taken.  
For example, as Customer Relationship Manager for the Foodservice Business, I had monthly performance discussions with my boss.  But I had quarterly discussions with some of my direct reports. 
So, the timing/frequency of feedback discussions will vary.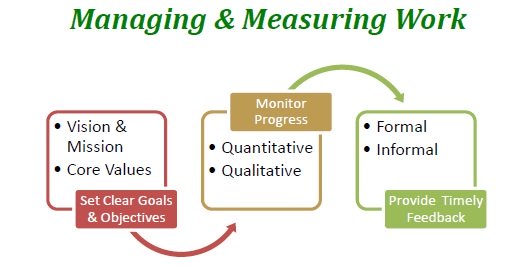 The Practice
How often have you heard that practice makes perfect?  Well, in reality, perfect practice makes perfect.
Practice "bakes in" all the elements to create a culture of accountability.
Now, you get to practice setting clear goals and objectives, monitoring progress and providing timely feedback.
It is the "stuff" performance management is made of!
Want To Know More?
I was invited to speak at the 2016 Tennessee SHRM State Conference.  The following presentation on Managing & Measuring Work was specifically designed for that event.